ChromaCon FPLC Systems
ChromaCon AG is a private Life Science tool company located in Zürich, Switzerland. ChromaCon implements novel cyclic and continuous chromatography process principles and corresponding operating software and control on chromatography hardware systems. The resulting systems outperform standard batch chromatography systems by providing significant (30-50%) CAPEX and OPEX cost savings and allow faster processing as well as enabling scalable chromatographic solutions for large scale purification applications. ChromaCon's proprietary processes position it to be a leader in cyclic and continuous downstream manufacturing operations.
The Contichrom® equipment platform consists of two lab-scale/prep-scale equipment lines, as
The Medium-pressure Contichrom® CUBE and Contichrom® CUBE Combined for protein chromatography marketed by ChromaCon and its distributors
The High-pressure Contichrom

®

Lab-10 for small molecule purification marketed by Knauer
The Contichrom® CUBE line, consisting of two modules with complementary functions incorporates all process modes. Batch, sequential batch, CaptureSMB®, MCSGP and N-Rich® and also has the AutomAb® function.
The Contichrom® Lab-10 incorporates batch and MCSGP process capabilities.
Both equipment lines employ twin-columns with cyclic and continuous process capabilities.
For GMP and non-GMP scale-up, ChromaCon has partnered with LEWA Process technologies (LPT), offering customized pilot and process –scale equipment. ChromaCon has implemented its twin-column process technology into LPT's hardware and operating software.
Contichrom® CUBE and Contichrom® CUBE Combined are modular twin–column lab-scale equipment for biopharmaceutical protein process development applications, operated at medium pressure
Click here to view the NEW Cube System brochure :
The

Contichrom Discovery
The Contichrom Discovery is a FPLC offering an expandable library of single-column batch and automated multi-step purification protocols for antibodies and tagged proteins. The FPLC comes with a set of pre-packed columns suitable to perform the protocols. The hardware and software are highly automated and optimized for ease of use, requiring only minimal user input.
Batch Wizard provides easy design and operation of all single column processes with isocratic and gradient mode
Discovery Wizard provides a library of pre-defined automated 1-, 2- and 3-step purification recipes
Customized single or multi-step processes can easily be set up in addition
The Contichrom Discovery can be upgraded to a high-throughput (HT) FPLC allowing for unattended purification of up to 18 different samples.
Click here to view the NEW Contichrom Discovery System brochure :
The

Contichrom HPLC
Our preparative HPLC system differ from conventional HPLC systems by providing a significant improvement for any purification challenge. It provides up to 90% higher yield at any given target purity. This is done by using proprietary cyclic processes:
Standard batch processes
Automated two-step batch processes
Automated cyclic purification process (MCSGP)
Automated cyclic enrichment process (N-Rich)
Analytical separation at preparative scale!
Click here to view the NEW Contichrom HPLC System brochure :
The

CUBE Accessories
We offer and recommend useful accessories to our Contichrom systems helping to facilitate chromatographic operations:
The Teledyne Isco Foxy R1 fraction collector
The Teledyne Isco Foxy R2 fraction collector with expanded racks
A sample loading system with valves and loops for precise injection of small samples (50 µL-20 mL)
A screening valve system for rapid discovery of ideal chromatography conditions
Optional preparative flow cells for external detectors
Optional external variable wavelength detectors (190-500 nm)
Optional external variable multi-wavelength detectors (190-700 nm)
A cooling cabinet that can accommodate the R1 fraction collector as well as feed and buffer bottles
A re-usable transport box for each the CUBE and the CUBE+ modules
Click here to view the NEW Twin Column Chromatography Process Portfolio :
For GMP scale-up equipment, ChromaCon has license agreements with LEWA and LEWA Process Technologies for implementation of ChromaCon's proprietary process principles at GMP pilot and process scale.
Contichrom® CUBE
The Contichrom® CUBE is a dedicated powerful purification system for biopharmaceuticals such as monoclonal antibodies, designed for medium pressure preparative chromatography applications.
Run batch, cyclic or continuous processes with the user-friendly ChromIQ® automation software that will provide you automated process optimization and control.
Get 50% more yield in protein purification with the same target purity.
Develop economic monoclonal antibody capture processes saving up to 50% on Protein A resin costs.
Incremental addition of process capabilities.
The Contichrom® CUBE equipment line consists of two modules with complementary functions that incorporate all process modes. It supports batch, sequential batch, CaptureSMB®, MCSGP and N-Rich® processes and also has the AutomAb® function. The CUBE equipment line employs twin-columns with cyclic and continuous process capabilities.
The CUBE Combined, consists of the CUBE and the CUBE+ modules.
The first module, the Contichrom® CUBE, is a stand-alone module, having batch, integrated batch, CaptureSMB® and AutomAb® process and control capabilities and being ideally suited for monoclonal antibody purification using a standard platform purification process. CaptureSMB® is used to efficiently capture proteins on affinity resins, such as Protein A or affinity resins for tagged proteins. AutomAb® is a program helping to optimize the capture step automatically. The polishing step is done by normal batch chromatography employing either step or gradient elution. Two single batch polishing steps can be integrated in one run, employing the twin column setup.
Contichrom® CUBE module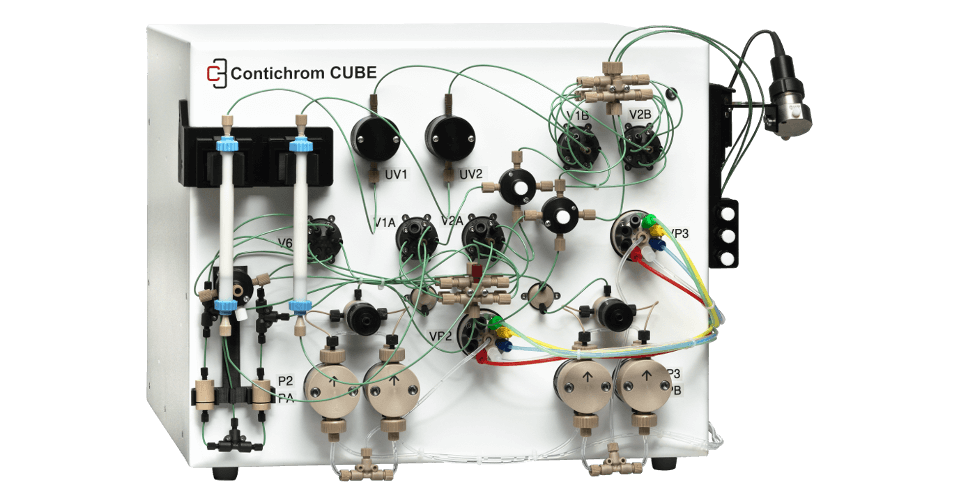 The second module, the Contichrom® CUBE+ is an extension of the first CUBE module and cannot be operated stand-alone. It has additional process capabilities for high resolution polishing, employing MCSGP and N-Rich® processes. These processes operated as twin-column processes provide significantly higher yield without compromising target purity. If you have aggregates that you want to separate from your product you can use the MCSGP process as an SMB process to binary separate product from aggregates with high efficiency and yield. N-Rich® is a tool for isolating minor compounds, such as product-related impurities or biomarkers. These processes combined with small-particle resins allow to obtain almost analytical resolution with preparative chromatography.
Contichrom® CUBE+ module
For scaling up to GMP pilot/process scale, our licensing partner LEWA and LEWA Process Technologies will implement batch, CaptureSMB® and MCSGP processes into customized hardware skids with operating software, providing best-in-class GMP process solutions. Their skid production site in Devens, MA welcomes visitors. (www.lewapt.com)
The CUBE Combined, consists of the CUBE and the CUBE+ modules.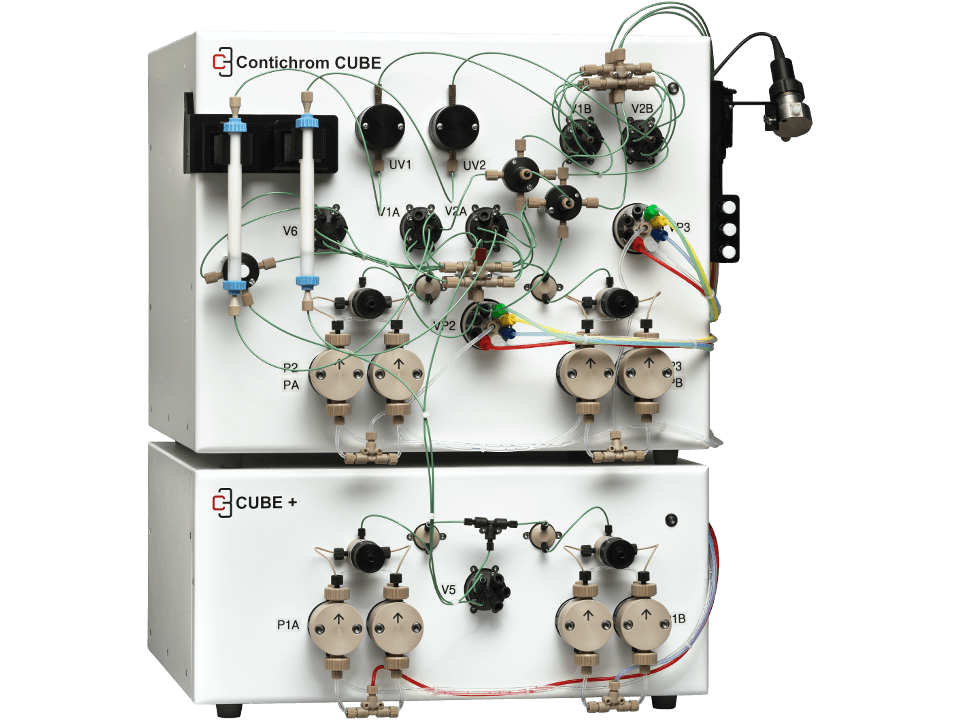 ChromIQ® Software
The ChromIQ® software runs the twin column Contichrom® CUBE preparative protein chromatography equipment. It contains all the familiar processes and tools for separation and purification with an intuitive, user-friendly interface.
It is full of useful tools to help you run more efficient batch processes, easy step-by-step wizards to help you convert to the more efficient Contichrom® Processes and tools like AutomAb® to run an optimized CaptureSMB® process and let you take advantage of the benefits of the Process Portfolio.
The following ChromIQ® software wizards, are delivered with the CUBE modules:
Batch wizard, CaptureSMB® wizard, AutomAb® wizard, MCSGP wizard, N-Rich wizard
ChromIQ® also has an expert operating mode for deeper control and a full range of analysis and reporting tools.
The software contains all essential elements for 21CFR part 11 compliance:
Pre-defined user groups, administrators, R&D and production users
Rights management for individual user groups
User accounts are password protected
Logging with time stamp and user name
Electronic signature with checksum of log and measurement files.
Here you can download several process animations which help to understand the working principle of the Contichrom® Platform
Please choose and click on the links below for further ChromaCom product information :

Chromacon Contichrom Discovery

ChromaCon Contichrom HPLC

ChromaCon Contichrom Cube

ChromaCon ChromIQ Software

ChromaCon GMP Scale-Up

ChromaCon Process Development Services

ChromaCon Applications

ChromaCon Cube Spares and Repair Parts