The Contichrom® CUBE is a dedicated powerful purification system for biopharmaceuticals such as monoclonal antibodies, designed for medium pressure preparative chromatography applications.
Run batch, cyclic or continuous processes with the user-friendly ChromIQ® automation software that will provide you automated process optimization and control.

Get 50% more yield in protein purification with the same target purity.

Develop economic monoclonal antibody capture processes saving up to 50% on Protein A resin costs.

Incremental addition of process capabilities.
The Contichrom® CUBE equipment line consists of two modules with complementary functions that incorporate all process modes. It supports batch, sequential batch, CaptureSMB®, MCSGP and N-Rich® processes and also has the AutomAb® function. The CUBE equipment line employs twin-columns with cyclic and continuous process capabilities.
The first module, the Contichrom® CUBE, is a stand-alone module, having batch, integrated batch, CaptureSMB® and AutomAb® process and control capabilities and being ideally suited for monoclonal antibody purification using a standard platform purification process. CaptureSMB® is used to efficiently capture proteins on affinity resins, such as Protein A or affinity resins for tagged proteins. AutomAb® is a program helping to optimize the capture step automatically. The polishing step is done by normal batch chromatography employing either step or gradient elution. Two single batch polishing steps can be integrated in one run, employing the twin column setup.
Contichrom® CUBE module
The second module, the Contichrom® CUBE+ is an extension of the first CUBE module and cannot be operated stand-alone. It has additional process capabilities for high resolution polishing, employing MCSGP and N-Rich® processes. These processes operated as twin-column processes provide significantly higher yield without compromising target purity. If you have aggregates that you want to separate from your product you can use the MCSGP process as an SMB process to binary separate product from aggregates with high efficiency and yield. N-Rich® is a tool for isolating minor compounds, such as product-related impurities or biomarkers. These processes combined with small-particle resins allow to obtain almost analytical resolution with preparative chromatography.
Contichrom® CUBE+ module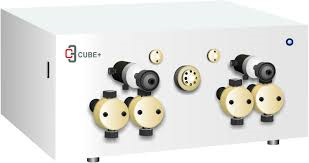 For scaling up to GMP pilot/process scale, our licensing partner LEWA and LEWA Process Technologies will implement batch, CaptureSMB® and MCSGP processes into customized hardware skids with operating software, providing best-in-class GMP process solutions. Their skid production site in Devens, MA welcomes visitors. (www.lewapt.com)
The CUBE Combined, consists of the CUBE and the CUBE+ modules.