GS-Tek
General Separation Technologies, Inc. (GS-Tek) is a leading GC column manufacturer located in the USA. GS-Tek is devoted to chromatographic separation science and worldwide chromatographers. GS-Tek is located in Newark, Delaware and conducts both national and international business from retail and distribution to OEM. GS-Tek provides quality and cost effective chromatographic products and services like columns, supplies, and tech-support to end-user chromatographers in all fields, solution and service providers, distributors and OEM partners.
GS-Tek Products
GS-Tek Mission
High Column Quality:
· Chromatographic performances of GS-Tek Columns are nearly replicated when being compared to brand name columns.
· High column performances in all aspects like column selectivity, column inertness, column bleed and column plate number
· 100% of our columns are tested for superb quality
· Consistent high quality and reproducibility to win customer loyalty
Cost Effectiveness:
· Delivery of very high quality columns to our customers that have all (100%) been tested for high quality
· Low cost and highly productive column production
· Unconditional customer satisfaction warranty
· Very competitive prices with additional flexible sales discount policies
· Short lead time from both the inventory and orders that are made to order
Customer Satisfaction:
· Seamless column switching with similar performances to brand name columns
· Employee expertise in chromatography, helping to solve customer application problems
· We listen to our valued customers
· Quick response time to customer inquires and short order lead times
· Unconditional customer satisfaction warranty
· A high quality product supplier
Flexible Marketing:
· GS-Tek welcome part-time sales forces to join us and help us expand our business.
· GS-Tek offer substantial discounts and flexible terms to our distributors with practical volume quotas.
· GS-Tek provide limited free product samples for customer evaluation upon request.
· GS-Tek do seasonal promotions to reduce our inventories.
Strategic Alliance:
GS-Tek has established strategic marketing alliances with several US companies in order to serve our customers well. Because of this, we are better able to the broaden price offers of our chromatographic products in order to save our customers money. GS-Tek continues its effort to seek business alliances with businesses that have focus on international suppliers.
GS-Tek People:
GS-Tek people are industry-known column technology gurus, international marketing and logistics specialists, experienced and hard-working engineers, scientists and technicians of column manufacturing and tech-supporting, and order-fulfillment specialist working around clock with our international customers. We have over 30 years of cumulative experience in chromatography separation science and marketing. We strive for operation excellence.
GS-Tek Competitive Advantages
Products:
· A complete line columns and other chromatography supplies, with a variety of stationary phases, column dimensions
· All products delivered to our customers are consistent in quality
· Our products overtake brand-name product performances in column selectivity, column inertness, column bleed, plate number
· Our products have longer lifetimes and better cost savings
Production:
· Cost effective production and quality control
· Some of the shortest lead times among all industries in the field
· Proven track-record tech support
· Quick responses to customer inquires
· Fast method and application development
Marketing and Sales:
· Flexible international marketing approaches
· Quick response to customer inquires and technical issues
· Competitive prices and quality products
· Short order fulfillment times including order processing
Technology:
· Proprietary manufacturing technology
· Short product development times
· New technology focuses
Click here to download the GS-Tek Full GC Column Catalogue :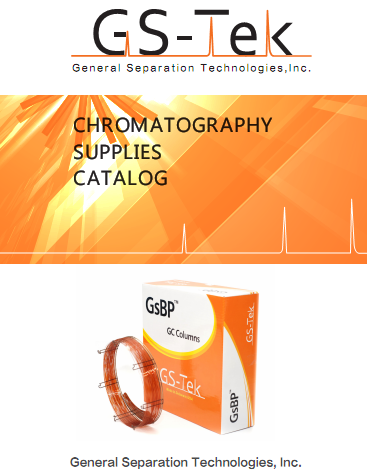 GS Tek FULL Price List

GS-Tek GC Columns

GS-Tek HPLC Columns

GS-Tek Solid Phase Extractions

GS-Tek Chromatograhic Supplies

GS-Tek Custom-made products